Looking for a new bike for your little shredder? Here is our kids bike top picks.
Our kids bike are built to last. Equipped with lightweight frames and quality components such as Sram and Shimano making them easy to work on. However, we do offer lifetime free servicing on all kids bike bought from ourselves so you don't even need to get your hands dirty.
Firstly we have the Tadpole from Frog. This is where the bike riding journey begins for your little one. The Tadpole is a balance bike, this means that there are no pedals or stabilisers. The Tadpole is designed to get kids used to the balance needed to ride a bike by using there feet to balance rather than leaning on the stabilisers because if you teach your kid this, when you take them away it will more often than not involve a few crashes as when they lean over there will be nothing there, this is why a balance bike is the safest and quickest way of teaching your kids to ride. The Tadpole would roughly suit kids aged between 2 and 3 years old. Don't sweat it if your little one isn't so little, we often take the chain set and pedals off of bigger bikes to make them into a temporary balance bike until they are confident enough to put the pedals back on. This also stops our customers from having to buy another bike as soon as their child learns how to ride. The Frog Tadpole comes in a plethora of colours, even spotty, and is coming in at £160.
Next up we have our most popular kids bike by far, the Frog Hybrid. This is the natural progression from the Tadpole and beyond as it is available in all sizes from 14" wheels right through to 26" wheels therefore suiting kids at all ages. The Frog pedal bikes are numbered, this is not a only a model number but also their sizing system. The number on the frame correlates the the riders inside leg measurement making it one of the most accurate kids bike sizing systems out there. For example the Frog 55 is aimed at kids aged 6-7years old but if you want to be sure, the minimum inside leg measurement that will fit this bike is 55cm. We love this sizing system here at the shop because the last time we check kids came in all shapes and sizes no matter their age. These bikes are equipped with either a single speed gear set up or rapid shift 1x gear system depending on the bike size. The Frog Hybrids are available in a wide variety of colours and are starting at £270.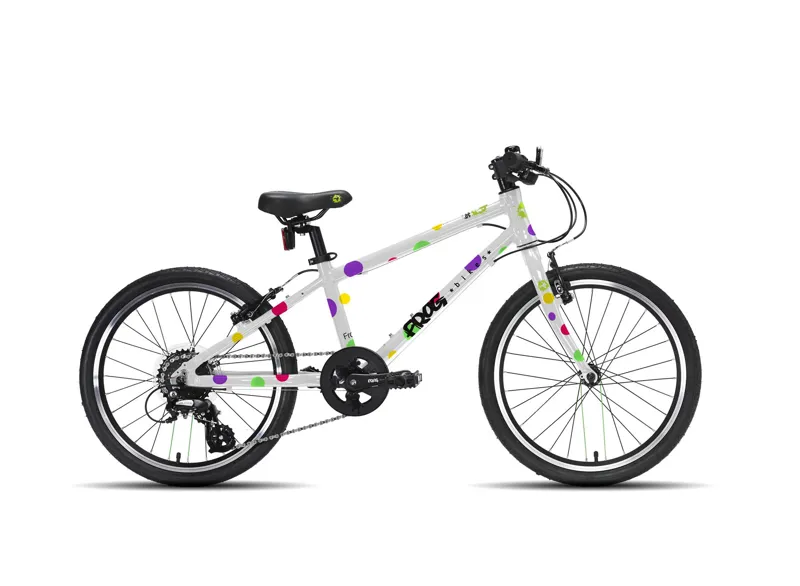 Now have a very similar bike to the Frog Hybrid, the Ridgeback Dimension. This bike from Ridgeback comes in marginally cheaper than the frog but is not available in as many sizes or colours. The Dimension comes in 14", 20",24" and 26" wheel options and each model is available in two colours. These bikes are also available in either single speed or rapid shift 1x gear systems, depending on size. The Dimension starting price is £250.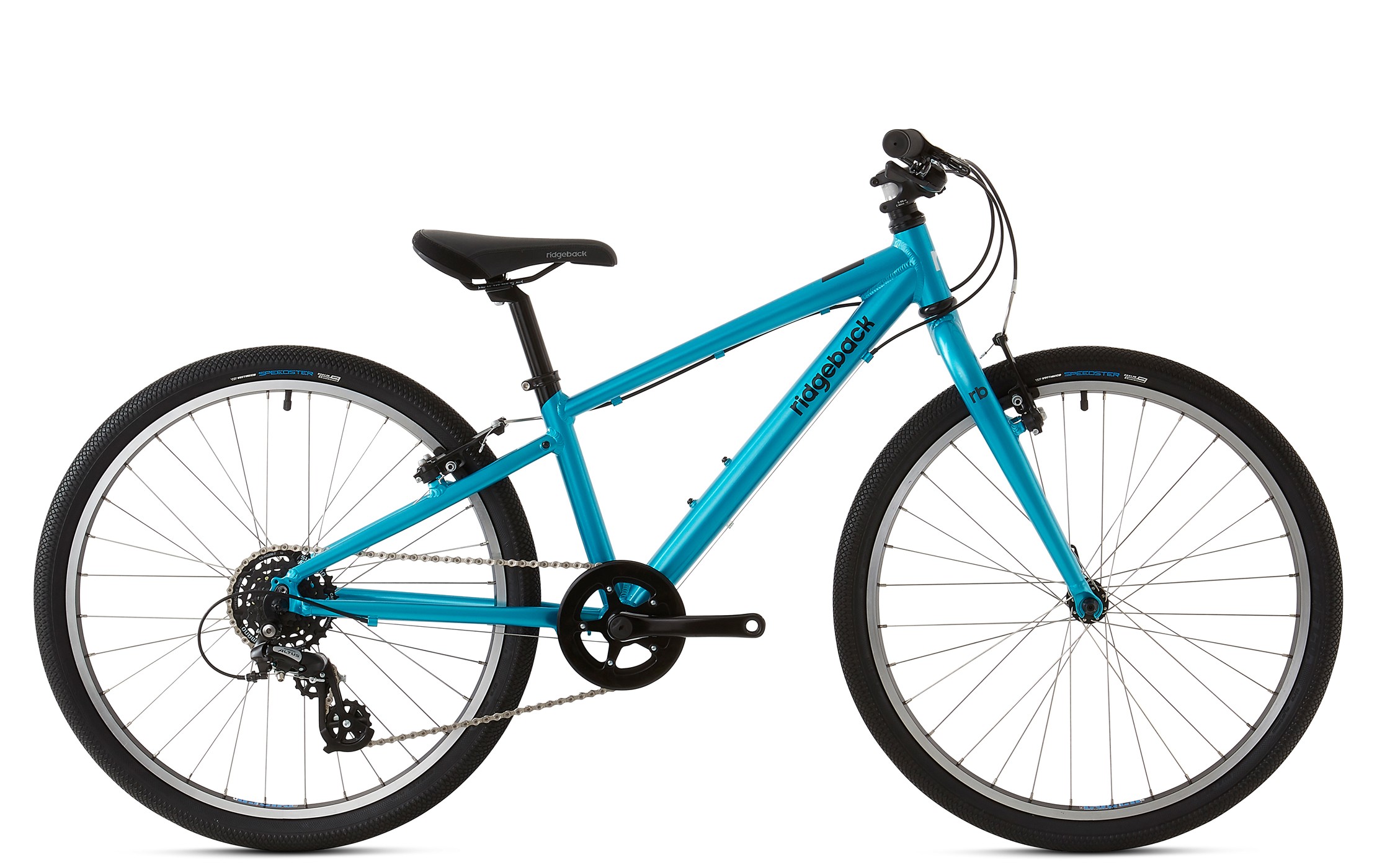 Now we have another bike from Frog, their Mountain Bike range. These bikes are ideal for introducing your kids to the woods, equipped with suspension fork and nobly tyres these bikes are ready to eat up the single-track. Frog's Mountain Bike range is available in two wheel sizes (24" and 26") and three frame sizes (62,69 and 72). Frog say that their Mountain Bikes will fit kids roughly aged 8-14 years old. The 69 model won the Red Dot Design award in 2018 so there is no telling that these are top notch bikes. Each of the Frog Mountain Bike models are available in two colours and are starting at £630.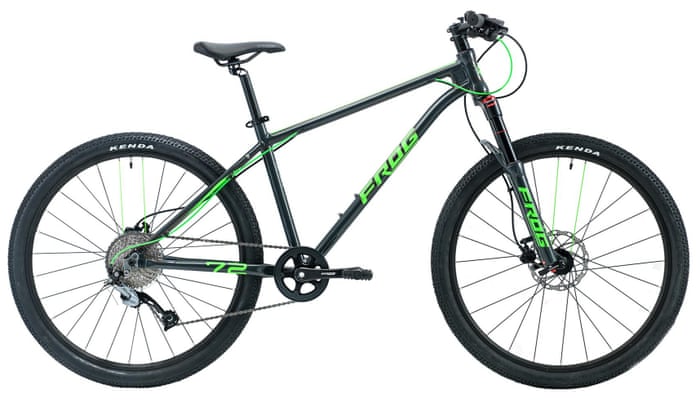 Here we have arguably the coolest looking kids bike out there, the Cannondale Cujo+. Yes that's right a fat bike for kids! This bike is equipped with super wide tyres which allows you to ride with lower tyre pressures therefore offering suspension. This allowed Cannondale to offer suspension for kids while maintaining a lightweight construction that makes it easy for them to ride. This is why the Cujo+ is available in smaller sizes(20"and 24"wheels) compared to the Frog Mountain Bike Range. The Cujo+ is available in two colour schemes, 1 per size, and is coming in at £350 for the 20" and £400 for the 24" model.
Finally we have our favourite mountain bike brand's kids hardtail, the Whyte 403. This is the ultimate kids off road machine. Equipped with hydraulic disc brakes,suspension fork, sleek internal cable routing, 1×9 Shimano gear system, WTB trail boss tyres and Whyte's famous out front frame geometry the 403 from Whyte will have your little ripper railing every trail. This bike is available in only one model with 26" wheels and is coming in at £599.
A little extra tip for you, our best selling kids bike accessories, besides a helmet of course, is a kickstand and a gear guard. These accessories will fit on every bike on this list apart from the Frog Tadpole and are only £20 (£10 each). We offer trade ins on all kids bike bought from us as we understand it can be hard keeping up with how fast they grow! Therefore most of our customers end up going for these accessories in order to get more money back for their trade in towards the next bike. Also I mentioned the free servicing on all kids bikes bought from us at the top of this list, this is for labour only if your kids bike needs any parts then there will be a charge for this but we will fit them for free. The gear guard is a mere £10 but protects against a very popular yet very expensive repair where the rear derailleur catches on the spokes of the rear wheel, therefore resulting in new rear wheel, new rear derailleur and new chain. So long story short, our advice would be to spend the £20 at the start to avoid a much greater expense in the future…
If you interested in any of these bikes please don't hesitate to get in contact with the shop via Sales@billybilslandcycles.co.uk or give us a call at 01415520841/01415527882.
We are always free to chat bikes